[dropcaps style='square1′ background_color="]T[/dropcaps]his announcement marks the beginning of a new of Feathercoin updates. Our intention is share the work we are doing with the wider community, we plan to release these updates every Tuesday between 1-4pm GMT. We may choose to change these times in order to reach a wider audience, there is a summary at the end of this post.
Feathercoin Key Stats
[unordered_list style='circle' number_type='circle_number' animate='yes' font_weight='bold']
160 days since genesis block creation
Approx. 17,000,000 Feathercoins created
Approx. 12 days behind target generation rate
[/unordered_list]
Feathercoin is an innovation of values and began with a firm belief in sustaining the innovation that came before us. Because it's not about being first it's about being right and having the determination and commitment to see it through in the long term. We think people are more important than technology which we see as being there to bring them together. In fact we think the work that needs to be done now is to make the technology disappear. This is the Feathercoin team lineup as it stands:
The Feathercoin Team (Hours per week)
Peter Bushnell (@Bushstar) 60hrs+
Chris Ellis (@Chrisj) 40-60hrs
Ruth B. (@Ruthie) 20-40hrs+
Mark P. (@UKMark) 20-40hrs
Dr Geoff Gibbs (@Entimp) 10-20hrs
Mark H. (@Nutnut) 20hrs
Svenn (@svennand) 20hrs+
Maria N. – Part Time but available on demand
@Ghostlander – Part Time but available on demand
There are many others who have worked incredibly hard. Special thanks to Sunny King for his continued support.
We go online to get offline
>Our focus over the coming weeks will be to take a bottom up approach, getting Feathercoin and the crypto technology behind it out to the masses. The internet is like a map, in many ways it is jealous of the offline world. Add to this the fact that approximatly 2.5bn people in the world do not have access to financial services, with our low transaction fees and fast confirmation times, along with our SMS Wallet (see below) we are well placed to complement Bitcoin.
While he is not busy disintermediating the global payment networks, @UKMark likes to watch football & spend time with his family. So we are very grateful for all the time he has put in building the SMSWallet which means users in the UK and US (for now) are able to send and receive Feathercoins over the SMS network, independently of the internet.
This is an important part of our strategy to bring Feathercoins to the wider population with plans to start rolling our a pilot to the homeless in London UK later this year. More work needs to be done on the usability and we are very grateful to our early adopters like Erika who take part in our usability studies:

In camera usability study with one of our early adopters Erika, interview conducted by ChrisJ
Beer for Feathercoin Part II
Our second Feathercoin meetup was huge success, we had many people turn up including Svenn who came all the way from Norway and many others coming in from across the country. If you want to get involved please sign up to our meetup group.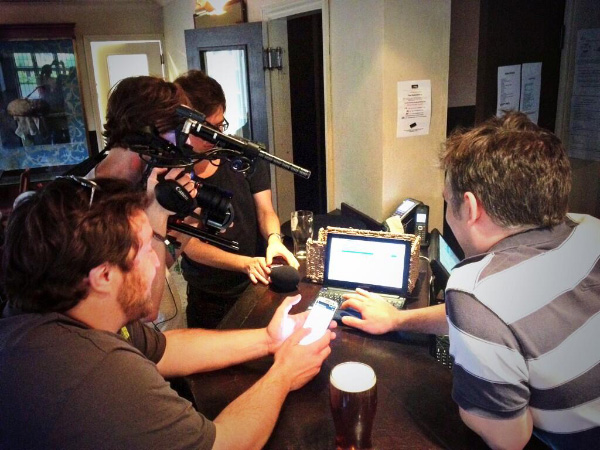 We were joined by a film crew, the very talented Olly Newport & Chris Leydon getting a shot of one of the Feathercoin payments.
Our intention here is to create real world connections with small businesses and the local community in order to work from the ground up. We believe that the ground level is the best perspective of all, this hyperlocal approach is going to help characterise us in the next year. You can expect to see the video of the event in the next few weeks, we hope it will help to involve the wider world in to this movement.
Beginning in London and Oxford UK once we have a workable model the plan is to scale out the same format the world over. We believe that our power comes from our global reach and we plan to put a lot work in to increasing the diversity among Feathercoin users.
Local Feathercoin
Which brings us nicely on to an improvised project by @tuneman1980 and I who asked the community on our forum for their real world locations which we have compiled in to the Feathercoin Global Map as part of our drive: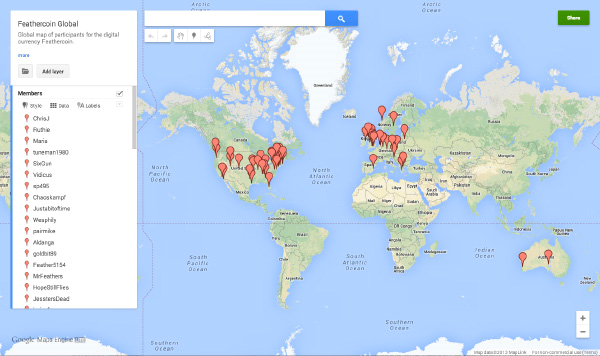 Feathercoin Kickstarter – Building on our strengths
We are focussed on developing our strengths and one of things that really defined us early on was the entrepreneurial spirit and it still does, which combined well with a generous atmosphere within the wider community. There have been many bounties, much free time and community support.
We really want to push this further with our Feathercoin Kickstarter project. It will be rough, it will be dirty but there is still time for you to have your say.
Feathercoin Market Place
The Feathercoin Market Place is currently undergoing some maintenance after the initial round of feedback. Bushstar and Maria are working hard to build a Feathercoin Online Wallet with Escrow facilities.
Feathercoin – The Miner Update – Hard Fork Block 87948
The latest Feathercoin version 0.6.4.4 is now available and is a mandatory update. This update includes a hard fork of the block chain to accommodate the changes made in this patch. This hard fork should happen roughly around the 1st October which is only a week away. To be able to send and receive Feathercoin after block 87948 you have to use the new client. Continuing to use old clients after the hard fork could result in the loss of coins.
Primarily this update is to further the refine of the difficulty adjust. Though the current Feathercoin difficulty which we changed to get us out of a tough spot it is not fair for long term miners who have to experience 41.4% swings on every adjust. The new code will adjust four times more frequently at 126 blocks but to approximately 9% which still gives the exact same overall adjust. To prevent the difficulty from being sent up or down too rapidly the current 504 sample window is being maintained and damping is being introduced to reduce fluctuations between extremes.
There have been long running discussion and arguments on the Feathercoin forum including simulations of various different options surrounding this solution. Feel free to take a look at the latest discussion here.
To get the latest update please go to the Official Feathercoin Website and download the client from the homepage.
Changelog:
Move to 126 difficulty adjust with 504 averaging window and .25 damping
Reduce effectivness of Time Warp attack
Reinstate CAlert system
Make getnetworkhashps more accurate
Release Windows binary with QR encode
TL;DR – Growing from failure
We have faced some big challenges, we stumbled along the way but we got back up and and we are here to stay. It's not the mistakes that will define us, it is how we grow from them. If you want to join us on our journey the only thing that needs to qualify you is how much you care! You need a passion for currency choice and you need to believe in Feathercoin. Come say 'hi' on the forum.
Follow us on Twitter @Feathercoin where we are very active.
Thank-you for your time.